Aboriginal topics in the media
Avoid stereotypical writing by knowing which words are appropriate to use to show respect. And learn how Aboriginal people love social media.
Selected statistics
32%

Percentage of Australians who trust the media. Same figure for all surveyed countries: 57%. [1]
Aboriginal stories – diverse & changing
A common misconception is that media reports "the" Aboriginal story or viewpoint. In talkshows and interviews, Aboriginal people are expected to speak for all Aboriginal peoples.
But how could they? There are hundreds of Aboriginal nations across Australia with different histories, cultures and traditions, and just like anyone else can every Aboriginal person hold their individual views. There cannot be "the" Aboriginal story, only ever "one" Aboriginal story.
And Aboriginal stories are changing. More and more stories of young Aboriginal people add to the repository of stories of Elders and older Aboriginal peoples. Perspectives differ between parents and their children and grandchildren, between those who thrive in contemporary culture and those who value tradition.
Warlpiri Media Association

The Warlpiri Media Association (WMA) is a non-profit community organisation based in Yuendumu, 300 kms north-west of Alice Springs, Northern Territory. It is managed by a locally elected Indigenous management committee and also known as PAW Media and Communications. PAW is the abbreviation of the three language groups of that area, Pintupi, Anmatjerre and Warlpiri. WMA provides media services over a 40,000 km² area.
Warlpiri Media employs Indigenous and non-Indigenous staff who create and broadcast local media as well as media for a broader regional and national audience.
WMA's major area is video, both production and local transmission. In 2001 they launched the now popular PAW radio network, and also offer a music recording studio and the capacity to produce web based projects.
The association has been in business since 1993 and celebrated its 25th birthday in 2008.
One example of their fine video productions is the popular bush comedy Bush Mechanics.
Find more information visit the Warlpiri Media website.
I think it's critically important for Indigenous media to have our own outlets to counteract a lot of the mainstream media's negativity and straight out lies.

— Amy McQuire, Darumbal and South Sea Islander journalist [2]
Deadly Sounds - a weekly radio program
Deadly Sounds is a Australia's only national weekly Aboriginal and Torres Strait Islander music program. It features music, culture, information and sport in a positive magazine format. Deadly Sounds supports a positive healthy lifestyle without too much alcohol and without drugs.
The program features Aboriginal music from around the country, interviews with special guests from the fields of music, sport, film, theatre, dance and community achievement. [3]
It began in 1994 on just 12 stations [3] and is now broadcast through the community radio network as well as the National Indigenous Radio Service to almost 200 stations across Australia, and to over 70 remote stations. Deadly Sounds broadcasts to every state and territory in Australia.
Ads targeting Aboriginal people
Most media in Australia targets western people. Advertisements for Aboriginal people, however, have to be different should their messages reach them.
During 2011 the Roads and Traffic Authority of NSW ran a seat belt campaign aimed at changing the behaviour of rural male drivers who forget to buckle up. [4]
While most ads showed white people, a print ad below targeted Aboriginal people. Note the use of the wavy decoration which incorporates colours typically found in Aboriginal art, and the prominent use of the Aboriginal word "mob" (used to address fellow Aboriginal people).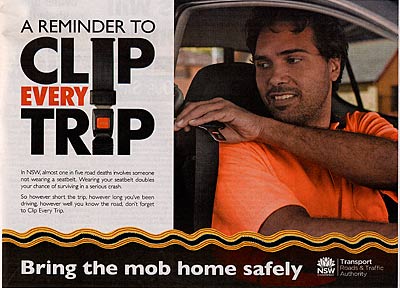 Story:

"Black's just fine"

When Cathy Freeman proudly showed the Aboriginal flag alongside the Australian flag during her victory laps at the 1994 Commonwealth Games, Arthur Tunstall, an Australian sport official, threatened to send her home because she had breached the games constitution.


But several years later, in 1998, both were part of a Bushells TV ad. The Rivals series featured four famous adversaries who laughed off their differences over a cup of Bushells tea. (The other pair was Ron Casey and Normie Rowe.)

In the ad Cathy prepares a cup of Bushell tea for Tunstall. As she asks him if he would like milk, he replies, "No, black's just fine". [5]